"Strength in Numbers" Makes the Difference for Stop & Shop Workers
When 31,000 Stop & Shop workers from over 240 stores in New England walked off the job on April 11 in protest of a contract proposal that threatened health care benefits and workers' rights, Working America members stepped up to show their support and to make Stop & Shop a better place to work and shop.
Eleven days later, the community's unyielding encouragement helped make the difference! Today, Stop & Shop workers have reached a tentative agreement with the supermarket chain. The new proposed contract preserves health care and retirement benefits, provides wage increases, and secures other benefits.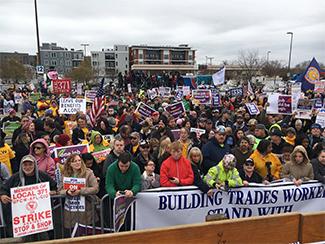 Credit
Photo Credit: Massachusetts AFL-CIO
In solidarity, we asked more than 7,000 Working America members in Massachusetts, Connecticut and Rhode Island to support the striking Stop & Shop workers. We also heard from our members about why they honored the picket line.
Many noted the workers' outstanding professionalism. "I only shop at Stop & Shop because of the wonderful help!" Nancy from Arlington, MA, told us. "I think it is disgusting that workers have to strike because of [management's] hurtful lack of benefits." Another member from Providence, RI, shared, "Stop & Shop workers are the greatest because they really care about their customers." Finally, a New Haven, CT, resident told us that workers "provide a welcoming shopping experience every week to me and my neighbors."
Our members also had a few words for corporate management. "I shop at my local Stop & Shop because I believe in supporting businesses in my community. The employees are part of my community," Lisa from Stratford, CT, shared. "Stop & Shop corporate and Ahold Delhaize should be investing in their people, which includes fair living wages and benefits and includes full-time and part-time employees. They make you successful … not the other way around." Another Working America member from Swansea, MA, warned, "We have other choices. Please don't make me take my business elsewhere."
For others, the strike was inspirational. Robert from Boston, MA, pointed out, "They are showing all of us that fighting for fair wages, health care and healthy working conditions is the right of all workers!"
For Working America members, "strength in numbers" is in our DNA. We know it's essential in the fight against corporate greed. As the United Food and Commercial Workers shared, "The flood of support — both in person as customers stop by picket signs to drop off bottles of water, offer hugs or messages of strength and encouragement, or online on social media — shows New England is a place that values hard-working union families and believes workers have earned the right to build a better life and community."
Thank you, Working America members, for making a difference through collective action.